Welcome to our elections page!
THANK YOU TO EVERYONE WHO VOTED!


LIKE US ON FACBEOOK | JOIN OUR COMMUNITY GROUP | FOLLOW US ON TWITTER

Check out our 2016 CANDIDATE Videos posted on YouTube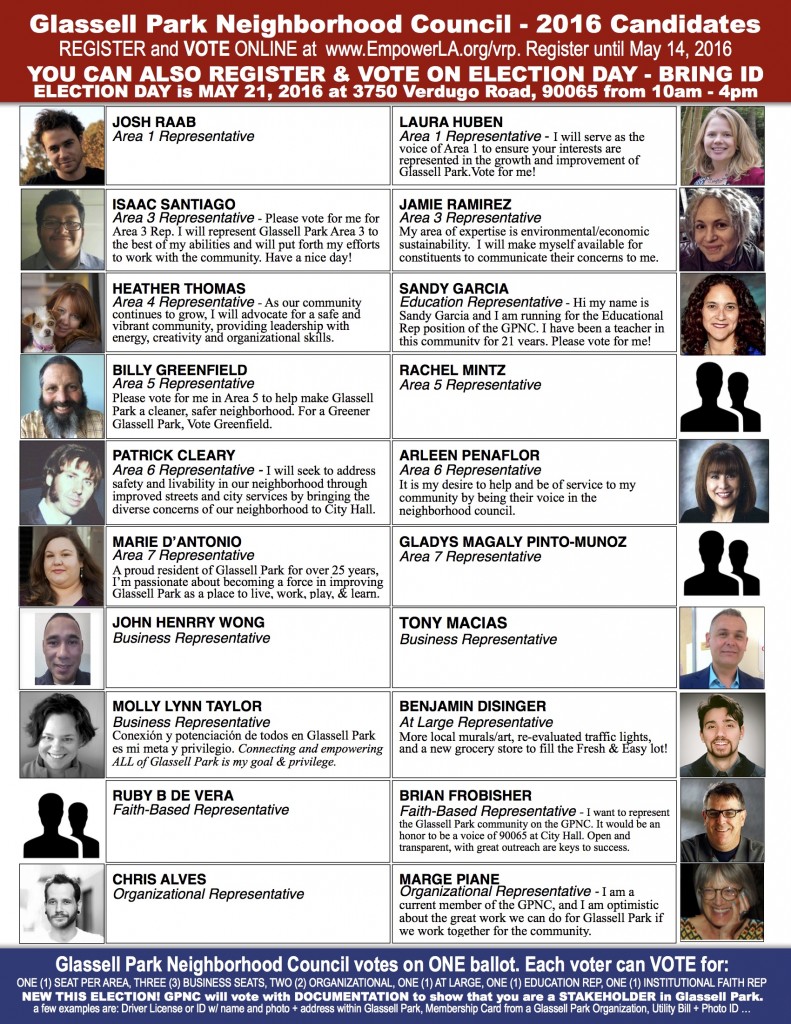 ——————————–
More from our candidates posted here on the City Clerk website:
City Clerk
Neighborhood Councils are City-certified local groups made up of people who live, work or own property in that Neighborhood, with the board elected by the Neighborhood. Their activities include creating events and programs that respond to the unique needs of the community or advocating on behalf of the issues they care about such as crime, roads and streets, the creation of safe spaces for children, preservation of green space or historic architecture, and economic development.
GETTING INVOLVED CAN BE AS SIMPLE AS VOTING IN THE MAY 21ST ELECTION, BUT IF YOU WANT TO PLAY A BIGGER ROLE, RUN FOR A SEAT ON THE BOARD, JOIN A COMMITTEE, OR BOTH! AND NO MATTER WHAT: AFTER YOU VOTE, STAY INVOLVED BY ATTENDING MEETINGS WHERE MEMBERS OF THE COMMUNITY ARE WELCOME TO JOIN IN THE PROCESS!
YOU CAN PRINT YOUR CANDIDATE FILING FORM
OR FILE ONLINE AT www.empowerla.org/nccr
DOWNLOAD PDF – CLICK HERE
MORE INFO ABOUT BOARD SEATS HERE
Area Representatives – 7
Business Representatives – 3
Organizational Representatives – 2
Education Representative – 1
At Large Representative – 1
LINK TO EMPOWER LA – 2016 GPNC Elections Website
Region 8 – ELECTION & CANDIDATE Timeline